Using Data to Teach Your Kids How to Pitch
Advanced metrics and new ways of acquiring data have been the talk of baseball for better than a decade. The way teams are built and players are analyzed has changed dramatically, and while things can get contentious sometimes between the old and new schools, these changes are undoubtedly for the good.
For the general public we get to go along for the ride. There are great websites, some that incredibly have no paywall, that give the curious fan an opportunity to sift through some of this tremendous data. That information can be overwhelming for a novice but I found a new, practical use for the data, a way to teach young kids strategies in baseball. More specifically, pitching strategy.
I have two boys that pitch, one who is about to turn 18 and another who is 9. My 9-year old has gotten to the point where simply throwing strikes is not enough to be successful with the level of team he is playing with now.
I have markers for young pitchers that, in my opinion, they must check off before they move on to the next step. Age is not the only factor in the process. Good throwing mechanics is the foundation, throwing consistent strikes with the four seam fastball is next. Once you are there you are ready to learn the change-up. After you can throw those two pitches for strikes with consistency and good mechanics you are ready to dig deeper on pitch location. That's where I am with my youngest and we had an interest exchange recently that I think really helped him.
I asked him if he was just trying to throw strikes down the middle in his last outing and he said "yes." I asked him if he thought about moving his fastball around the zone and at all and if he knew where he should be throwing his change-up. He said, "not really."
I began explaining some of the fundamentals of pitch location and usage when I quickly realized I was boring him to death. Visual learning is generally just so much more effective in my experiences, especially with young boys, and so off to the iPad we went.
My son is right-handed and I wanted to teach him about his fastball versus right-handed hitters early in the count. So I showed him this graphic below from Baseball Savant. This is all 0-0 count 4-seam fastballs from right-handed pitchers to right-handed hitters that were called strikes in MLB in 2017.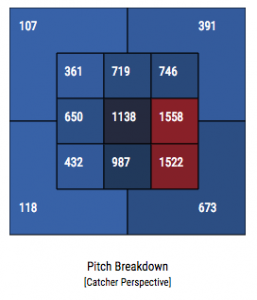 I can tell him, "when in doubt, fastball down and away" and he may even hear me. Or I can show him this graphic above and it will likely resonate much more.
I then wanted to teach him about pitching ahead in the count and where he could best use his fastball for a strikeout. He is an Angels fan (forgive me Texas Rangers fans, I'm working on him, but he loved Mike Trout before I ever got the Rangers job). So I showed him Angels right-handed pitcher's fastballs from 2017 that resulted in a swinging strikeout in 0-2 and 1-2 counts against right-handed hitters. Baseball Savant came through again.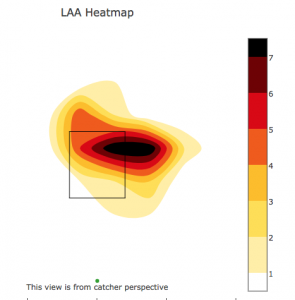 Clearly elevating the fastball in and above the zone and up and away were the places to go for Angels pitchers (as it would be for most). These heat maps are great for demonstrations like this and were an eye opener for my little guy.
The change-up was next. The change-up is one of the most effective pitches a pitcher can use, it is also one of the more difficult to teach young ones. One reason is it is kind of a boring pitch. The other is that it can be difficult for young arms to find the speed differential you would like to see between their fastballs and change-ups that can truly make it an effective pitch.
When I asked my youngest where he thought he should throw his change-up to right-handed hitters he guessed/answered "up and in?" So we went to Fan Graphs to find the right-handed pitcher with the highest change-up usage in 2017. Hello Marco Estrada!

From there it was back to Baseball Savant for another fun heat map. This time I wanted Marco Estrada change-ups versus right-handed hitters that resulted in outs.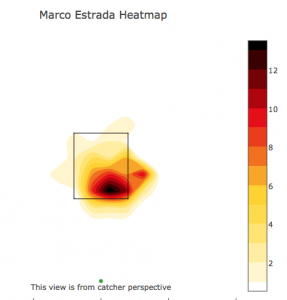 Not surprisingly most were down in the zone and middle-away to right-handed hitters. And versus left-handed hitters both the zone breakdown and heat map really drove home the point, keep the change-up away!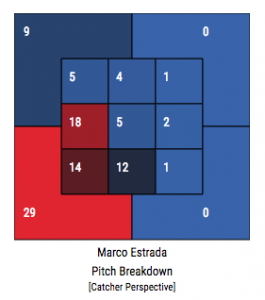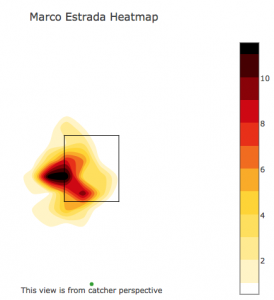 There are endless applications and opportunities to use new data to teach time proven strategies in our game to your kids. It's time well spent with them and you may even turn them on to a new hobby, baseball data mining. If at any point though they ask you about bullpenning realize you've gone too far and it's time to turn back to conventional wisdom.