Keeping Score In The Digital Age
Part of my job as a broadcaster is keeping a scorebook during games that I'm calling on TV. It is a pretty essential part of the job. Broadcasters have different needs, even among each other, than say the person keeping the book (or using Game Changer), at your local youth or high school baseball game.
I have been calling games on TV now for six seasons. My first year I did a few college games for CBS Sports Network as well as a handful of Yankees games on radio. I then had a small package of about 15 games for Fox and FS1 and now I am currently in my second season on the Rangers broadcast team where I call around 100 games, including some play-by-play.
Over that time my scorecard has changed. I constantly have tweaked it and think I have what will be my go-to version for at least a little while. Up until this season everything was on paper, I'd create my custom scorebook in MS Word and then have it printed up and spiral bounded at a print shop.
But the digital age is here and that has opened up a whole new world of creativity in scoring. I first saw a broadcaster use an iPad to score games in 2017 when Aaron Goldsmith of the Seattle Mariners crew and Fox/FS1 started using one. Then my partner, Dave Raymond, starting doing the same later that season.
I was intrigued and knew ultimately I would be making the change over to digital, and this year I have. I get lots of questions of how I score these games and this post is designed to answer those questions.
First things first find out what you need and create a template. Below is a picture of my blank scorecard I custom designed on MS Word. After much work, I got it down to a one-pager, 8.5 x 11.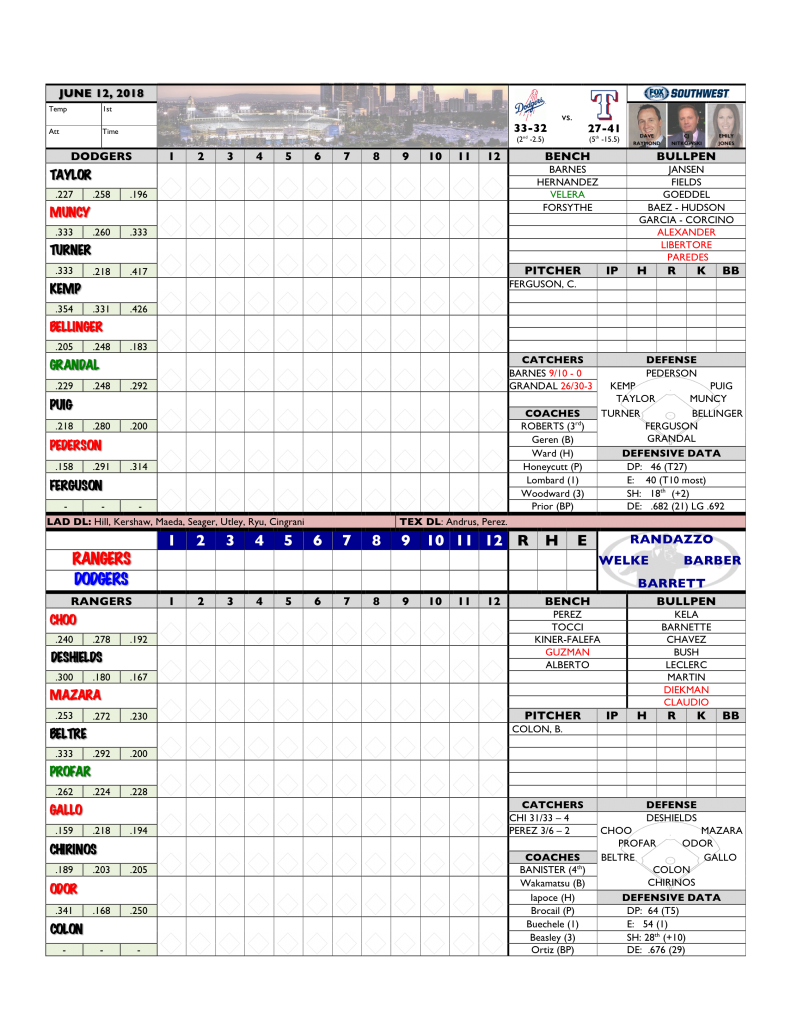 There's a lot to unpack but the essentials I like to have for a game are almost all here.
Once lineups are posted I type them into this document. Right-handed hitters in black, lefties in red and switch hitters in green. Under each hitter are his numbers vs. LHP, vs. RHP and RISP. I also have places for umpires, bullpens, bench players, coaching staff, defense and defensive data.
If you like this template, you can download it here. You can of course
Once lineups and data are inputed I save the document as a PDF onto a cloud service.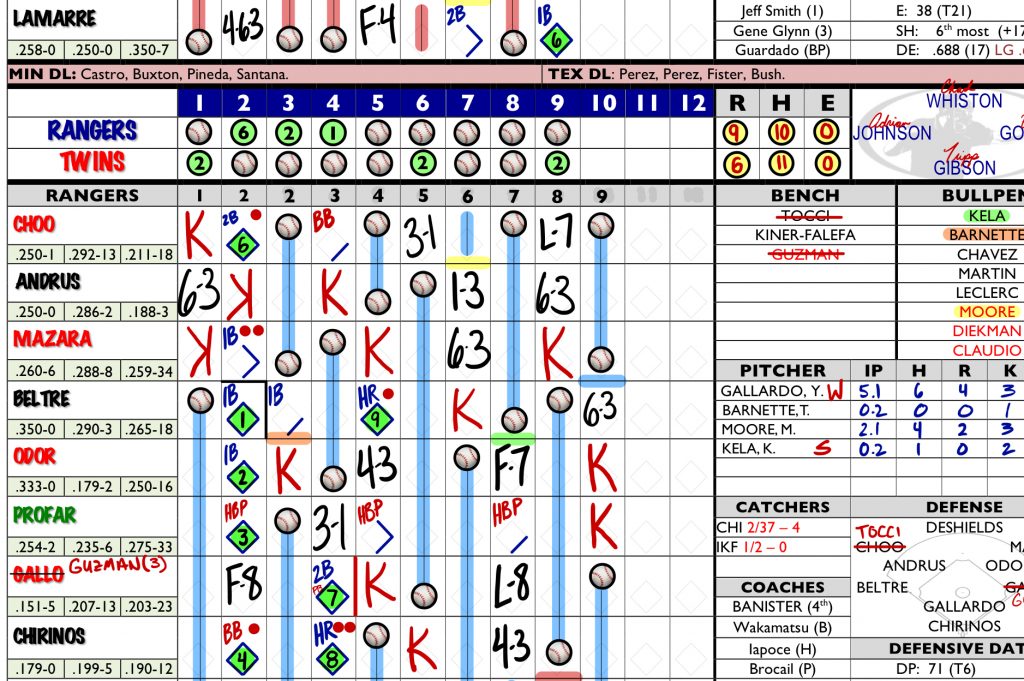 I then use my iPad to open an app called Good Pages and then import my scorecard with lineups and data. Now in order to score on your iPad you'll need an updated iPad that you can use an iPen with.I first tried to score on an old iPad with just my finger and quickly realized my finger wasn't going to hold up after a couple of games. I took the plunge and bought a new iPad. You don't need the iPad Pro. The latest and cheapest version of the iPad with iPen will work.
Another option if you like this template is to just download it and print copies or have them printed at a print shop and bound together.
With Good Pages you have endless options with color, thickness, fonts, highlighters, etc. As Dave says I turn scoring a game into arts & crafts time. Scoring is fun and a time honored tradition generations can pass down to each other, now there's a way to do it that can appeal to 21st century minds.